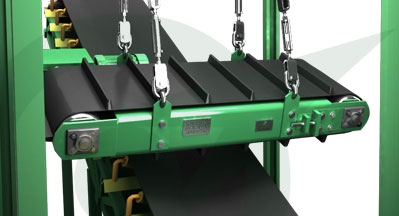 INTRODUCTION:
STAR TRACE Over band Magnetic Separator has been developed to handle high volume product stream flows that exceed the limitations of standard permanent suspended magnets. These models are available in both, manual on/off or automatic, self cleaning system designs. Electrical Power Supplies to operate the magnets are also available and recommended to ensure proper electrical power is supplied to the magnet.
CONSTRUCTION
Two U-section pieces are fixed on the Magnet by fastening ears and are supporting bearings of Drums. Drums are equipped with shafts mounted on removable hubs. All bearings equipped with stakes for tightening the belt. The belt is driven by a Reduction Gear Coupled to Electric Motor or Geared Motor by Vee- belts.
MAGNET UNIT:
The Magnet is made of High Intensity Strontium Ferrite Magnets and is guaranteed for the Magnetic Power throughout the life of installation. A Non - Magnetic Stainless steel Plate is provided to cover the poles of Magnet. There is no need for any electrical supply or maintenance.
SPECIFICATIONS:
Permanent Magnetic Over band Separators are made with powerful Strontium Ferrite magnets and supplied for deep depth up to 300mm.
Manufactured to suit conveyor width.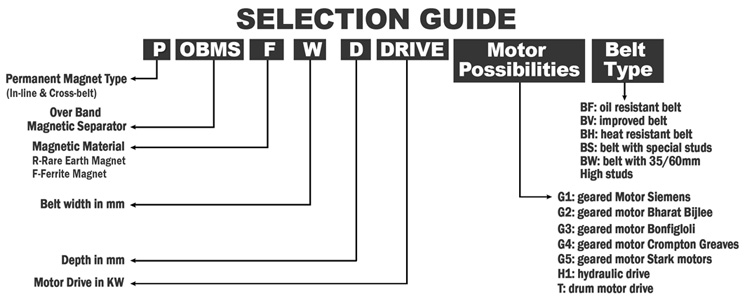 overband magnetic separators
overband magnetic separators manufacturers
overband magnetic separators suppliers
how does a overband magnetic separators work
overband magnetic separators sale
overband magnetic separators china
overband magnetic separators manufacturers india
overband magnetic separators capacity
overband magnetic separators design
overband magnetic separators wiki
overband magnetic separators globally